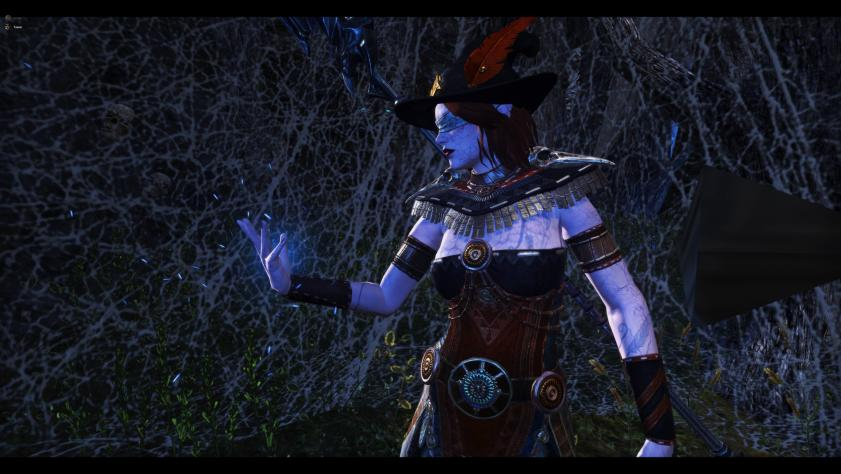 The years have gone by, but the inclination for the darker arts hasn't. 
I have taken a different approach on how I share information for Sorcerer healers. This guide is a written guide which allows the user to make their own decisions by understanding the insights on many different aspects of the Sorcerer Healer role that I have come to discover over my years playing The Elder Scrolls Online.
Possible Advantages
- Access to all possible support utilities (stun, root, synergy, fear, gap closer, chains, negate, defile, snares, etc). 
- Mobility and defense with Boundless Storm and Conjured Ward.
- Supportive Class Passives (cost reduction of ultimate skills, resource regeneration, extra max health, passive execute through Implosion).
Possible Disadvantages
- Potential lack of bar space.
- Lack of Heals over Time in class utility.
- Lack of group damage mitigation.
How to play Sorcerer Healer
 The more I played and interacted with others picking this class, I see different styles and builds with range of effectiveness or competitiveness, yet all interesting inspiring. I have seen off healers who dps like legendary champions, and healers that support in various different ways. In the end it comes down to finding a style that works for how you want to play. 
Team method of healing
In this method you are a piece of a puzzle that fits into the whole picture. You adapt to gear and bar slots often to fix team objectives and tactics. In this method you work with the team to become better, more as a group rather than an individual player
Individual method of healing
 In this method you are an individual working with a team. You bring your own style and work together with the team to find personal glory within a group with similar goals.  In this way you test more of your personal skills and your ability to adapt.
Race Options 
When picking  a healer you will find the below listed as the top races for healers. There is 3 notable top healing classes, but I find each race has something offer even in they aren't the common choices. 
Altmer

Altmer offers stronger heals over time and supportive passives for magicka sustain and max magicka. This is also a good choice due to their passive that increases shock damage, pairing well with Sorcerer's Storm Calling Skill Line and Destruction Staff abilities. . 

Breton

Breton offers cost reduction, which synergizes well with already existing cost reduction passives in the Sorcerer's kit. The magicka cost reduction can prove handy in pvp content, along with extra mitigation through the spell resistance passive. The Breton is also a good choice for pve content if you want a more defensive healer style.

Argonian

Argonian offers the easiest form of sustain through the "Resourceful" passive. They also have well-rounded passives in resistances and max health. Argonians also get bonuses to healing received and healing done to others. These passives are what make Argonians one of the most popular choices for healers. You will have potentially 2000 more health due to the stacking of class passives with Argonian racial passives, which brings you to about 17% extra max health.

Other Options

Why Bosmer or other races ?

There is 3 notable top healing classes, but I find each race has something offer even in they aren't the common choices. In regards to my famous choice of picking Bosmer, it allowed more stamina and stamina recovery for situations such as breaking free or simply roll dodging. Bosmer also has some niche utility through the fall damage and the poison/disease reduction passives. For healing, you might enjoy another class's passives for one reason or another. Just note that healing in ESO is very strong regardless of character race.
Which mundus to pick?
Picking a mundus stone is something you need to select depending on your needs or desire.  For instance, you may swap gear, traits, or enchants, which may cause you to see a boost of strength in a different area of your character. For healers, the most popular mundus stone choices are the following: The Ritual, The Apprentice, The Mage, The Atronach.
The Ritual 
This mundus stone increases healing effectiveness. For raw healing numbers, this stone is hard to beat and when combined with the powered trait, it will be hard to be out-damaged, unless it's a one shot mechanic that should have been prevented. This mundus, in most cases, overpowers the other mundus stone choices, but it is most useful in situations of endurance; when people will be taking a lot of incoming damage. I would also consider this mundus if you are struggling
The Apprentice
This mundus stone increases spell damage. This will increase the effectiveness of healing over time skills such as the popular "Grand Healing" skill and it's morph "Healing Springs". This will also increase damage in general, so use this Stone if want more damage or want to fulfill a hybrid dps/healer role. This Stone would be a great choice if you you find your spell damage is too low after swapping gear.
The Mage 
This mundus stone increases maximum magicka. The results vary depending on race picked. This option can be picked if you are falling below average maximum magicka because of gear or level. Having more magicka isn't necessarily the best option for raw healing, but it will allow you to sustain healing for a longer period of time, and be more forgiving of resource management mistakes.
This Atronach 
This mundus stone increases magicka Regain. This option is very useful for all types of healers especially those without enough passives or champion points. A person make find usage out of this if they want or need to heavy attack less in a situations. This could also balance out a build or stats after gear swap to average regain of healers of 1700+ .
Other Mundus
While the previously mentioned mundus stones are the most popular choices, you may want to consider others stones to fill in a gap depending on the situational needs of yourself or your group. If you are kiting, you might want extra speed or more damage mitigation. The only mundus that does not pair well with healing is the Shadow mundus stone. This is due to the fact that critical damage done no longer includes healing in the mundus's effects.
Which Food to pick?
There's actually a variety of food choices someone can choose depending on the build or situation. The choices consist of blue food (Savories) with Max Magicka + Max Health, Blue food (Orzorga) with Health regeneration and Magicka regeneration, Purple Food with Max Magicka + Max Health + Magicka regeneration, Purple Food with Max Magicka + Max Health, Purple Food with Max Magicka + Max Stamina + Max Health, and Gold food with Max Magicka + Max Health + Magicka regeneration + Health regeneration. Some Food scale with player level while others do not. You will need to find the right one for your level.
Examples of Food In Game
Witch Mother Potent Brew

This drink provides the healer with some max stats while also boosting magicka regeneration. The drink provides Maximum Magicka, Maximum Health, and Magicka Recovery. Can also be used to proc sets such as Bright Throat's Boast.

Citrus Clockwork Fillet

This Food is an improved version of Witch Mother's Potent Brew, however due to its high cost it should only be used in specific situations. Such occasions, are attempting a leader boards score or content you need an edge in to complete.  

Artaeum Pickled Fish Bowl

This food is an Improved Version of Savory Version that gives Max Magicka and Health for 2 hours. This is a good choice as long as you don't have sustain issues and can offer to make the recipe. 

Savories (Blue Food)

This type of food has to be found per level and gives Health + Magicka. This is cheap food to make and is good for healers to use as it gives more raw healing numbers over the more sustainable foods.

Orzorga's Red Frothgar

This type of food isn't used often but if you have enough magicka then you can use this food to increase your health over other options along with most sustain offered of the Healer food options. This type of food isn't used often but if you have enough magicka then you can use this food to increase your health over other options along with most sustain offered of the Healer food options.

Gourmet (Tri Food aka Purple Food)

This type of food can't be found till level 30. It it's used to give maximum stats for between the three attributes. This is works especially well for healers who might need a bit more stamina to break free, dodge, etc, but aren't hurting in sustain.
Which potions good to use?
There's not many effective options or diversity with potions that I can comment on for users. Most often people will find Essence of Spell Power to be the most effective potions to use. This is because major sorcery takes a skill slot, which Dragonknights usually aren't upkeeping anymore for the group. In regards to Major Prophecy, again using it as a potion saves a skill slot, especially for sorcs who don't have an active skill to use with this buff. I will be looking at other possible combinations for people to use at a later date.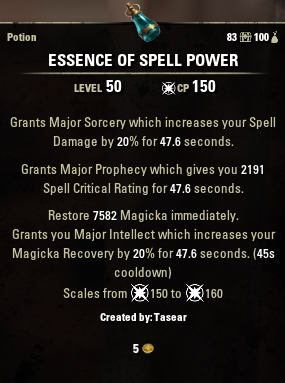 Which Gear to use?
For competitive and score pushing groups, you will find yourself using Jorvuld's/Olorime or IA/Worm combination between healers. But I would like to explain how each healer support set works in game for users.
Most Popular Sets

Spell Power Cure

    While there is debate on using this set over Olorime. I will stand by the statement that most healers in game have to handle some unpredictable group situations while healing. This set will provide better buff uptime on less coordinated groups. This set gives up to six allies the major courage buff while over-healing.

Olorime

This set is the crown jewel for most healers, and in many eyes a must have to be a real healer. This set gives the major courage buff with a possible uptime of 100%, but allies have to be aware and the healer must cast the buff on ground in appropriate place for allies to use it. This set can be used as a one bar setup for full effect. Unlike Spell Power Cure, this set can affect an unlimited number of allies that are within the buff area.

Jorvulds

Unfortunately this set isn't as great as it used to be, but it still adds time to war horn duration, along with other buffs and shields. Thus making this a good set to use for any level of competency of healer gameplay. This set can also be used on one bar and is more sustain friendly due to two magicka recovery bonuses.

Infallible Aether

    Personally, I would rather see this set used by dps, but it's a popular set for healers because of the imbalance that occured in the Clockwork City update with ways to get minor vulnerability. This caused it to be a lackluster set for dps allies to use. Speaking more on the subject, IA gives minor vulnerability for 10 seconds while concussion from shock, which is harder to proc, does it for 4 seconds. Minor Vulnerability can be easily placed on multiple enemies via resto staff heavy attack (resto heavy attack is fastest) or a lighting staff if the healer is using a one bar setup.

Worm's Raiment

This set reduces the cost of magicka abilities for up to 12 allies. This set can be useful in large scale pvp (though prepare to be focused on), but is most often used in trials as you need at least five magicka dps in the group for this set to out value other options in performance. Do note, you might get random invites from people looking for a healer while using this set. 

Sanctuary

Who doesn't like walking around with green orbs. Which might be troublesome if you are pvp healer, but otherwise this set is easy to acquire early on and can push self healing, along with healing done, to next notch. This set has a 10 meter range so works best with coordination or in stack and burn situations.

Healing Mage (Mending)

While this set has fallen out of favor for many healers, it is still a standard set for many when talking about healing. This set reduces damage taken within 10 meters of you when using an Area of Effect healing skill (example: Healing Springs), which could mean life or death for some people.
Which Skills to use
Competitive Skills

The skills or buffs that make Sorcerer healer competitive are as follows: Liquid lighting for it's on demand synergy, minor prophecy proc from Sorcerer passive, and 15% ultimate reduction of War horn also from Sorcerer's passives. Twilight Matriarch, while not competitive skill for trials, does best as burst heal in dungeons with its 360° heal and passive damage (that I wish did something else). While being a worthy dungeon healer skill it takes up two bar slots, which places unique limitations, without sufficient reward, on this class over the other currently offered classes.

Common Healer Skills

These are skills that most healers in the game are using to support allies in group.

Healing Springs

This skill, while the other morph is an option, is picked by most healers for Area of Effect healing support.

Energy Orb

This skill is slower than healing springs, but it offers more directions and allies a burst healing chance and resources. Some healers opt to use this more often or instead of healing springs.

Combat Prayer

This skill is important because of the minor berserk buff while providing minor resistances, however, the resistance buff is hardly ever noticed. As a healer, it is important to keep near 100% uptime on this skill. The downside is that it has a limited number (6) of allies it can affect, and prioritizes those that have taken damage. As such, this is a skill both healers should slot in Trials and is often used in dungeons too. 

Elemental Drain

While the Templar class has another option than elemental drain, this skill is used as support for allies and yourself. It provides sustain through minor magickasteal and places a resistance debuff on enemies the tank might have missed or didn't set as priority.

Elemental Blockade

While not as necessary since the off balance changes for trials, it is definitely a plus in dungeon healing as there are more "trash" mobs that don't have 20 second cooldown on how often you can proc off balance. In trials settings, at least one healer will use this as fire blockade, which gives more dps then lightning blockade.

Purge

While by far more necessary in pvp, there are cases in dungeons and trials where a healer will conditionally slot this skill to help remove the debuffs on allies, and to reduce the duration of additional negative effects by 50% for 5 seconds.

Crushing Shock

While not necessary per say on the healer, there are cases when someone in the group will need to bash, or interrupt, on certain gameplay mechanics.    Examples: Dragon Star Arena: Mage so she doesn't enrage and bad stuff happens with templar/Spindleclutch: Spider boss/Fang lair : moving mini boss on the side of final boss dragon/Cradle of Shadows: the moving spider lady boss.

Support Class Skills/Passives

While not all skills are necessary in all content, the class itself offers diverse set of skills.  As such with the class you can stun, root, immobilize, lay traps, and run away without getting touched by enemies. Also has the unique ability to negate spells, and silence magicka users. Here is some talks about how you can use some class skills to supports allies.

Summon Storm Atronach Ultimate:

    This skill can give major berserk to ally and buffing the skill itself. Due to it only buffing one ally, atronach is not necessarily an ideal skill for healer. In smaller groups, such as a dungeon where one might being doing more damage as a healer, this is an excellent support skill.

Summon Twilight Matriarch 

This gives 360° healing based on max magicka and passive shock damage.

Empowered Ward

This skill gives 10% magicka regeneration to allies, though the Warden class can also provide this group buff. It's easier to apply with the Sorcerer Class as there is no need to target allies in range.

Bound Aegis + Mage light

While not necessarily a direct support skill, adding these two together on the bars will increase healing output of all skills. I would use this if you need a boost for tight situations, or while you are gaining experience as a healer.

Power Stone Passive

This is the reason that the Sorcerer healer in the group should be the one using Jorvuld's, as not only will War Horn last longer with the set, but it will have more uptime due to Sorcerer's 15% cost reduction to Ultimates.

Expert Summoner Passive

While this doesn't make up for the loss of two bar slots on a healer supporting allies, the extra support will ensure you don't die as fast with 8% more max health..

Crystal blast

While not a popular skill, this can used in situations to provide extra dps and prevent getting run over by mobs for a moment by stunning them.

Shattering prison, 

While not a popular skill, this can be used in certain situations as a form of ranged crowd control, which pairs well for a healer who is in the back of the group usually in both pve or pvp. This also provides some damage.

Rune prison

Its best usage is seen in pvp. It also supports allies as way to get control of a situation via escaping or attacking down an enemy. Some people have found this skill to be the most frequent way to proc minor prophecy on a healer.

Dark conversion

While not as good as Betty from the Warden, you can use this skill at the start of situations, or while running away from situations to regain resources. This skill isn't highly recommended but is better in pvp than pve.

Daedric mines

While not as good as Betty from the Warden, you can use this skill at the start of situations, or while running away from situations to regain resources. This skill isn't highly recommended but is better in pvp than pve.

Exploitation

This is the class unique minor buff of minor prophecy which needs a Dark Magic skill to proc it.

Energy overload

This skill can be used to help support dps and give the healer sustain. It is also advisable to use this skill on a bar with destruction staff to get more resources back.

Liquid lighting

This is the only other on demand synergy tanks can use to proc Roar of Alkosh.  It supports allies by giving back resources on synergy activation via Undaunted passives.

Boundless storm + Imposion

This skill will support allies with more damage, a small chance of concussion, and small chance to proc implosion, the Sorcerer's passive execute ability.

Bolt escape

Could be used in pve as way to control mobs, but this dash has been overly nerfed thus making it best used in pvp for escaping, though resource usage is huge if it is spammed.